New FC Barcelona Lionel Messi tshirt on sale
To show your worship to Lionel Messi, we at Sporting Kicks have a FC Barcelona Lionel Messi tshirt.  The tshirt has the Barcelona crest on the front with 'MESSI' and the number '10' on the back of the tshirt. This Lionel Messi tshirt is on sale at £14.99.
View our Barcelona Lionel Messi tshirt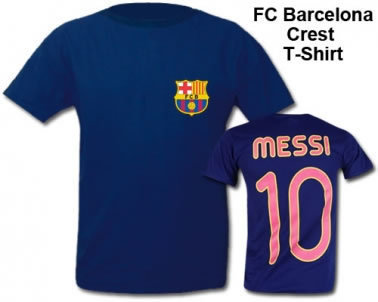 Lionel Messi is having another incredible season for Barcelona.  Messi has now scored an unbelievable 52 goals this season for barcelona with a further 25 assists. Messi's latest two goals came against Real Madrid in the Champions League semi final.  Undoubtedly Messi is currently the best player in the world.
Born in Argentina in 1987, the 23 year old has won the FIFA Ballon D'or for the last two years and is a good bet to take it this year as well.  Hailed by many as the natural sucessor to Diego Maradona, Messi has already enjoyed a glittering career at Barcelona although some suggest that he doesn't consistently produce the same form for his country.
---


Popular Right Now